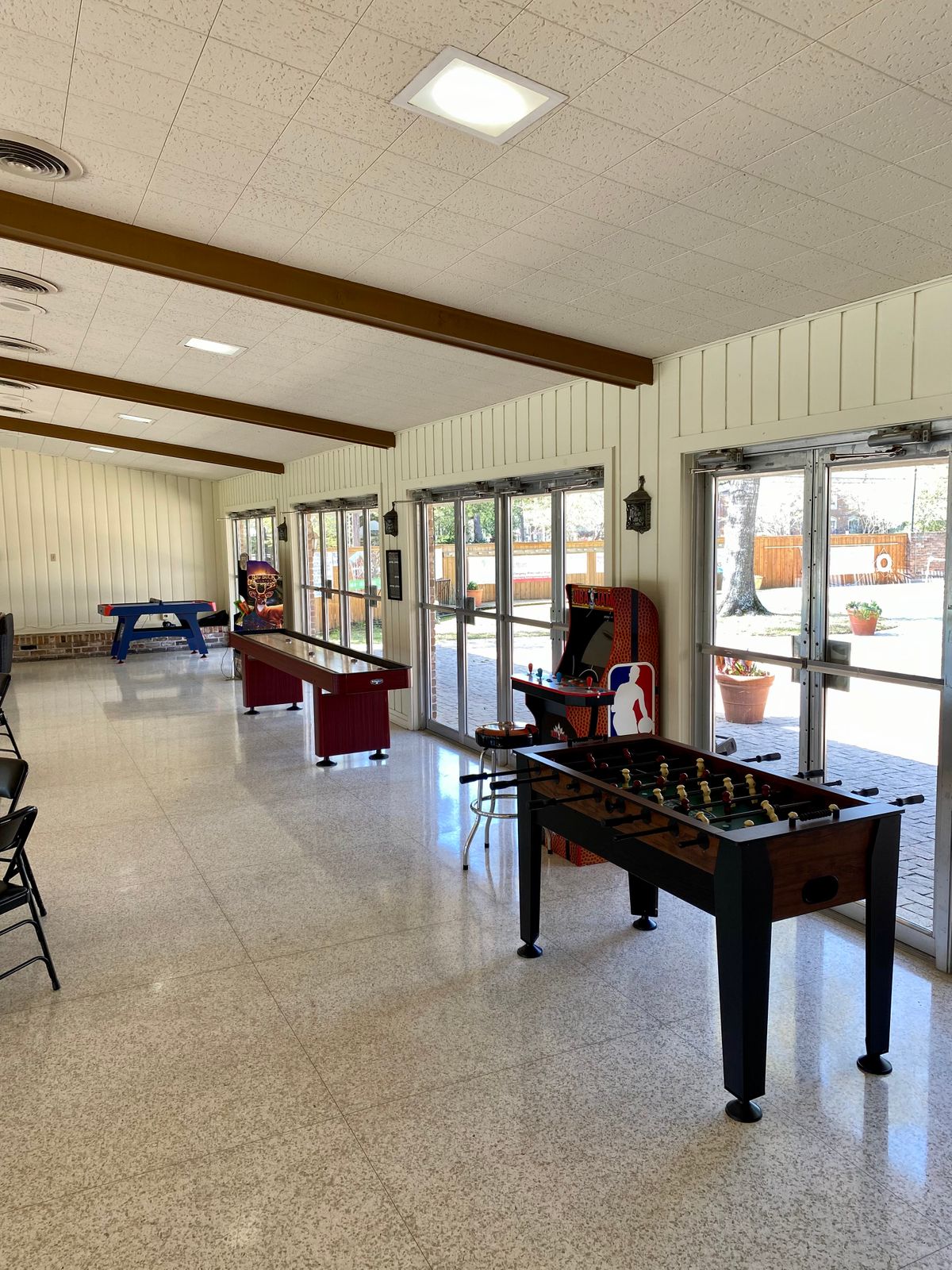 Clubhouse Rental
Rental of The Memorial Forest Club's clubhouse is a benefit for our members and is not available to the general public. The clubhouse is suitable for events hosting up to 150 people.
Activities and rentals range from civic club meetings to social events. The climate controlled clubhouse contains a kitchenette, men's and women's restrooms, tables, chairs, WiFi and television, which is Bluetooth enabled to allow for presentations.
For more rental information, please email the Rental Director. The management of rentals is a volunteer position. We work our best to respond to you within 48 hours of your request during Monday - Friday. If you have not heard back within 72 hours, please reach out again. Email is the preferred inquiry method.
Pool Parties
Pool Rental arrangements may be made by contacting the Club Manager - Moses Olvera.
The swimming pool is available for rental only during pool season (May – September). Reservations for parties of less than 15 people held during normal pool hours must be made with the Club Manager.
Rental of swimming pool is available to members only.
Members renting the swimming pool or a portion of the swimming area must be in attendance for the entire party.
Parties of 15 to 25 people (including non-swimming guests and/or parents) may be scheduled during regular pool hours. These parties may require hiring one additional lifeguard at $25.00 per hour (payment to MFC). The Club Manager must be called at least two weeks in advance for reservations.
Parties of more than 25 persons must be a private party during non-pool hours (prior to opening or after closing, and some Mondays available) and require lifeguards: one (1) lifeguard for parties of 25 or fewer people, two (2) lifeguards for parties of 26 to 49 people, and three (3) lifeguards for parties of 50 to 75 people. Each additional lifeguard is $25.00 per hour (payment to MFC). The Club Manager must be called at least two weeks in advance for reservations. Flat fee of $175 to book the reservation, plus lifeguard fees.
All parties during pool hours are limited to two hours and limited to three hours on Mondays when the pool is closed. Parties may not overlap and all non-members must vacate club immediately after party.
Members should obtain permission from the Club Manager before making any arrangements to rent or to contribute any club facilities as auction items.